Community workshop: Alice Springs industrial land needs
The Northern Territory Government is strategically planning for the development of industrial land in Alice Springs and is seeking your feedback.
The Alice Springs Regional Land Use Plan anticipates ongoing demand for industrial land and identifies future industrial land sites in Brewer Estate, Arumbera, Abattoir Valley and at Alice Springs Airport.
As there are a wide range of immediate and future needs for land to support both the town and the region, we are seeking to better understand these needs from an industry perspective.
The Central Australia region contributes an estimated $2.9 billion of the Northern Territory Gross State Product making this project an important springboard for increased investment in the Territory.
By completing 'Have Your Say', your feedback will:
Inform government of current and future industrial land development needs in Alice Springs from the perspective of potential users and
Assist government to undertake planning for headworks and essential services infrastructure, and prepare structure/subdivision plans in timeframes that reflect the anticipated needs of the community.
Consultation will include:
Face to face meetings with industry stakeholders
Have Your Say Survey available on the Have Your Say website and
a community workshop on Tuesday 16 July at the Central Australia Development Office, 55 Todd Mall.
To register for the upcoming community workshop or to arrange a face to face meeting, email Kayla Gaskin kayla.gaskin@fyfe.com.au.
Download the Have Your Say - Industrial land in Alice Springs

PDF, 3631.44 KB flyer.
Visit the Community Workshop: Alice Springs Industrial Land Needs event page.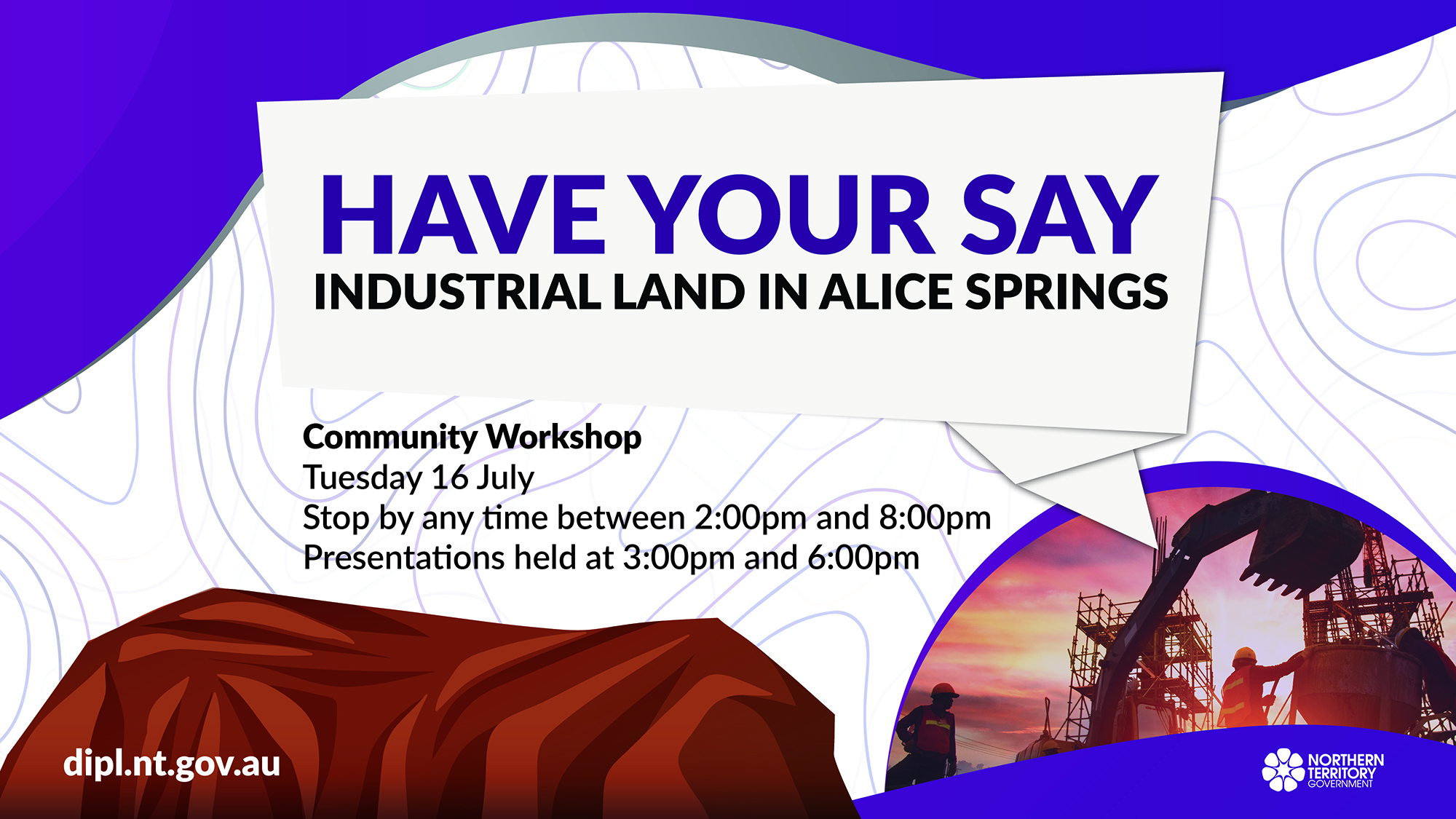 Contact: Kayla Gaskin
Phone: 08 8201 9643
Email: kayla.gaskin@fyfe.com.au
Last updated: 10 July 2019