Transport Planning Projects
Introduction
The Department of Infrastructure, Planning and Logistics, Transport Infrastructure Planning Division manages a range of transport infrastructure assets ensuring they meet the needs of the Northern Territory and embody the principles of safety, quality, value for money and environmental responsibility.
The Division's most important client is the public.
Everybody benefits from having safe, efficient and reliable transport infrastructure that increases the Territory's accessibility and economic potential.
The Division aims to ensure Government is always responsive to the needs of the public, both by engaging in direct consultation with key representatives in industry and the community, and by collecting and analysing road asset and traffic data on an ongoing basis.
This section provides links to some of the major road projects currently being undertaken.
With regard to the road network, the Division:
provides the strategic direction for Government and plans the road network
ensures the network's development is in line with customer and stakeholder requirements
sets the requirements for the network's maintenance and preservation for "whole of life" effectiveness and efficiency
sets policy and standards for management of the network and the road environment, in recognition of its relationship with the motorist and the adjacent landowners
provides advice on the above to Government and the public.
The Division is empowered under the Control of Roads Act on behalf of the NT Government as the owner of the road network for the care and management of the network, and is the competent authority under the Traffic Act.
The NT road network comprises the national highways, arterial and local roads, and bridges in the Territory, except for those owned by local government, community associations and some pastoralists.
---
Mount Johns Flood Immunity Project: Alice Springs
The Northern Territory Government allocated funds in the 2015/2016 budget to investigate ways to improve flood immunity in the Mount Johns Valley and Desert Springs areas of Alice Springs.
Currently, when the Todd River floods, residents and businesses in these areas are unable to access the Alice Springs CBD or Stuart Highway, as the Casino (Taffy Pick) causeway and Tuncks Road floodway are closed.
The only available access to the area is through a Power and Water service road that is opened to the public during critical events. This private service road is designed for access to PWC sites only and is not built to Australian Road safety standards.
The investigation identified five technical design options to improve flood immunity, these being:
A connector road from Stephens Road to Sadadeen Road – direct route
A connector road from Stephens Road to Sadadeen Road - eastern route
A connector road from Tuncks Road to Sadadeen Road - via the Power and Water access road
A high level bridge over the Todd River at Stephens Road
A high level bridge over the Todd River at Tuncks Road
Details regarding each of these options are included in the attached map (4.9 mb)
Community consultation outcomes
The Alice Springs community was in mid 2016 invited to provide feedback on the technical design options, before a final preferred option was identified.

Consultation closed on August 5 2016, and as part of the Mount Johns Flood Immunity Study, five options were reviewed in detail.

The preferred option for flood immunity from both the project team as part of their technical design work, and the community in their feedback, is that a connector road is constructed from Stephens Road to Sadadeen Road.

While no plans are currently in place to commence work on the connector road, the works will be considered within future funding programs.

Sadadeen Connector Road is listed in the Northern Territory Government's 10 year infrastructure plan as a longer term priority.

A detailed fact sheet (271.8 kb) providing information on the options considered and the consultation results is available.
You can contact us for further information on this project via communications.DIPL@nt.gov.au
---
Improve parking in the Cullen Bay precinct to meet current and future parking demands
Cullen Bay is a popular dining, boating, tourism, business and residential precinct. The area attracts many motorists who need to park their vehicles for short and long periods.
The Northern Territory Government is developing a strategy for car parking at the Cullen Bay precinct to look at how motorists use the available parking and to address current and future parking demand.
The Department of Infrastructure, Planning and Logistics has engaged civil infrastructure engineering specialist, GHD, to lead the Cullen Bay Parking Management Strategy.
This study will help to identify the immediate needs of users of the Cullen Bay precinct and determine both short and longer term solutions to meet the precinct community needs.
The Northern Territory Government and GHD will work closely with the community, City of Darwin, Cullen Bay Marina Management Corporation and Sea Link to draft the strategy.
Community Consultation
Community feedback is encouraged to assist developing the strategy for current and future car parking at the Cullen Bay precinct.
There are several ways to get involved including providing your input at haveyoursay.nt.gov.au.
To gain a deeper understanding of the parking challenges, during the six week consultation period, the project team will also be:
Conducting face-to-face meetings with local Cullen Bay residents and businesses and other key stakeholders.
Travelling on the Mandorah ferry to speak with passengers who use the parking area.
Conducting intercept surveys with motorists who visit Cullen Bay during a two-hour period over two days (between 5 pm and 7 pm).
Conducting the on-line survey through haveyoursay.nt.gov.au between 20 July 2017 and 31 August 2017.
Have your say
To get involved, visit haveyoursay.nt.gov.au where you can learn more about the project and fill out an online survey.
Contact
If you would like to find out more about this project, please contact:
Casey Lovelock
Stakeholder Engagement Manager
Address:
Department of Infrastructure Planning and Logistics
Transport Planning Division
PO Box 61
Palmerston NT 0801
Phone:
08 8924 7118
Email: projects.tipd@nt.gov.au
---
Preferred Long Term Katherine Heavy Vehicle Alternate Route
The Northern Territory Government is planning for the future development of Katherine, particularly for heavy vehicle movements.
A planning study undertaken by Aurecon Group is expected to be finalised in mid-2017, which documents the preferred option for a longer term Katherine Heavy Vehicle Alternate Route.
This project is a 20-plus year initiative that aims to eventually:
identify an alternate heavy vehicle route corridor that can be preserved for the future, and developed in stages when the need arises
provide a second high level crossing over Katherine River
complement the outcomes of the Katherine Flood Mitigation Report and the Transport Business Hub.
A key aim of this long-term project is to provide an alternate route for heavy vehicles that does not restrict visitor and tourist growth and spending in the town centre.
This planning study is an Australian Government initiative funded under the Infrastructure Investment Programme.
Community Consultation
In July 2015, the Department of Infrastructure Planning and Logistics started consultation on a proposed heavy vehicle alternative route. Three rounds of community consultation took place, with the final round closing on 3 March 2017. Community feedback along with technical assessments helped identify the preferred option which was announced for the final round of public comment in December 2016.
The three rounds of consultation which occurred over the duration of this project were:
Round 1 consultation was held for six weeks over July-August 2015 seeking community feedback on the need for a heavy vehicle alternate route and possible routes for the road to follow.
Round 2 consultation was held for six weeks over October-November 2015 and sought feedback on three potential route options.
Round 3 consultation was held for eleven weeks over December 2016 - March 2017, displaying the preferred route for public information.
Throughout the duration of the project, community members were invited to:
Make a written/online submission
Visit one of the 12 community drop-in sessions
Review the public exhibition at the Katherine Library
Meet with the project team to provide input or find out more information.
Consultation with directly affected land owners regarding the preferred route is still underway.
What happens next?
The Department of Infrastructure, Planning and Logistics will now make an application to the Northern Territory Planning Commission, to embed this route in the Katherine Land Use Plan.
Contact
Casey Lovelock
Stakeholder Engagement Officer
Address:
Department of Infrastructure Planning and Logistics
Katherine Heavy Vehicle Alternate Route project
GPO Box 2520
DARWIN NT 0801
Phone:
08 8924 7118
Email projects.tipd@nt.gov.au
Download Fact Sheets
---
Planning Infrastructure for Future Integrated Ferry Services Study
The Northern Territory Government is investigating potential sites and planning infrastructure to expand Darwin's ferry services over the next 50 years.
The Department of Infrastructure, Planning and Logistics has engaged maritime infrastructure specialists Mott MacDonald to analyse a number of potential sites for future ferry terminals. Locations being considered are featured on the map: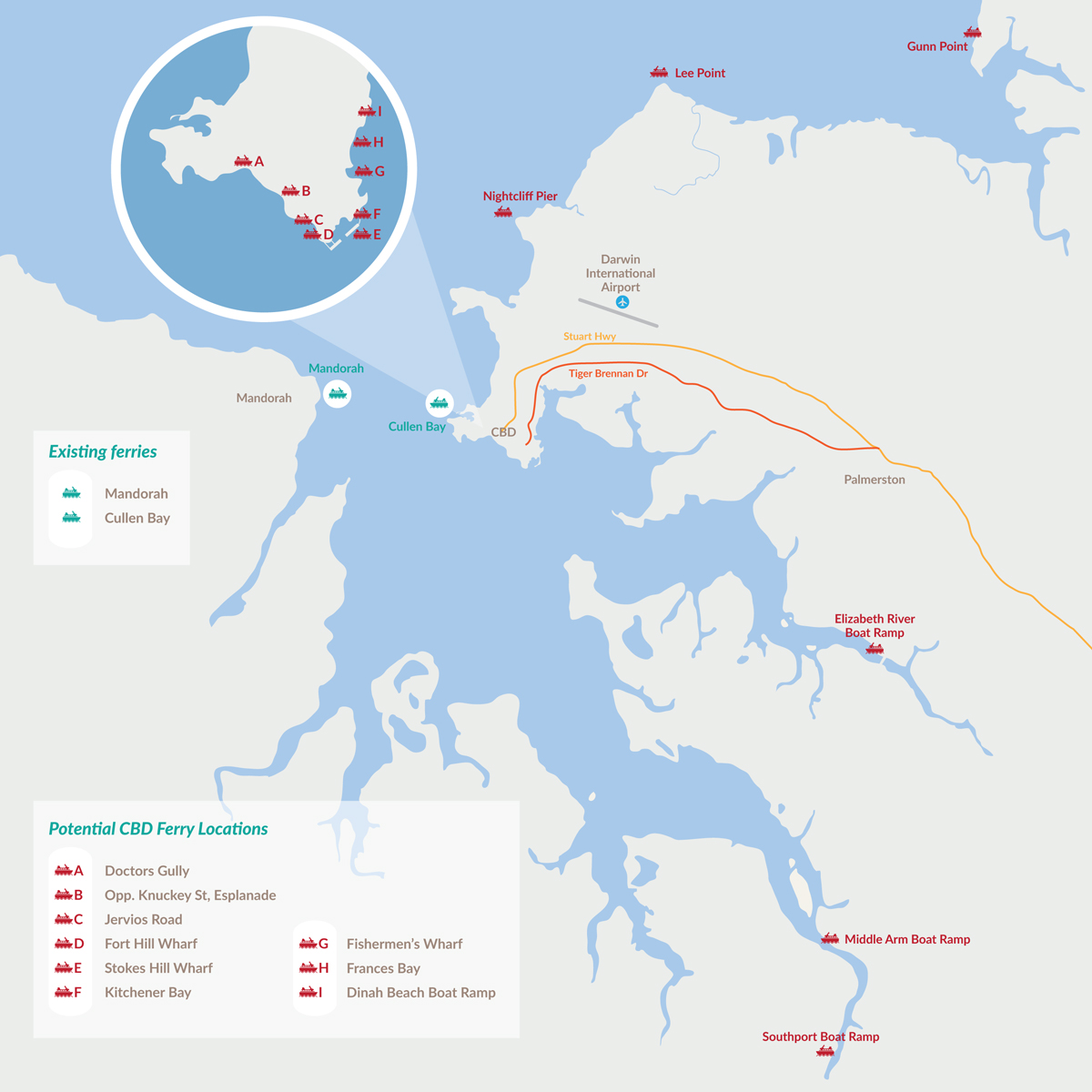 An important feature of the long-term planning study will be to consider how potential ferry site locations integrate with other transport options such as bus routes, cycle and pedestrian paths as well as existing and future road networks.
The Darwin Regional Land Use Plan estimates 130 000 people will be living in the greater Darwin region in the short term and 250 000 people in the next 40 to 50 years.
The analysis will look at trigger points for future demand for ferry transport over a 50-year period.
The study will also consider water depth, land tenure, access and prevailing weather conditions, environmental sensitivities as well as servicing and infrastructure requirements for future long-term ferry facilities such as pontoons, jetties, dredging, ferry terminal and parking.
Potential tourism opportunities and community benefits for a broad range of harbour users will also be considered.
Have your say
Please tell us what you think about future ferry sites and infrastructure.
Your feedback will help identify the most appropriate sites for future ferry infrastructure and services.
Visit the Northern Territory Government ferry planning website to look at the potential locations for future ferry sites and infrastructure and:
show us where you would catch a ferry on an interactive map (1 – 2 mins)
fill in a quick survey (2 – 3 mins)
give us your feedback on each specific sites (4 – 5 mins)
make a submission.
You can also call (08) 8981 6445 to register your information for project updates and register to come along to a community information session at the Mirambeena Resort from 5:30 pm to 7:00 pm on Wednesday, 15 November 2017.
Community consultation will close on 13 December 2017 and the study is due to be completed by early 2018, with stakeholders to be kept updated throughout this project.
For more information download a fact sheet (490.8 kb) and Q and A (126.0 kb).
---
Heavitree Gap Planning Study
The Stuart Highway through Heavitree Gap (Ntaripe) is the primary route connecting the north and south of Australia. Future traffic modelling show that it needs to be upgraded to meet future needs.
Engineering consultant, SMEC has been engaged to investigate a long-term infrastructure solution for duplicating the road through the Gap. Their work will be considerate of all road, rail and pathway user needs, cultural and environmental values, safety, travel efficiency and aesthetics.
Why is this planning study needed?
This project is about working with the community on ideas that might be viable to upgrade the road, when the need arises.
In 2016, the department undertook research to predict future traffic conditions for Alice Springs in 10 and 20 years, based on medium growth scenario identified in the 2009 Alice Springs Land Use Study. The 2016 Alice Springs Regional Traffic Study revealed that improvements will need to be made to some parts of the road network in order to maintain a safe and efficient network. This includes duplicating the Stuart Highway, through Heavitree Gap.
The Gap is reasonably narrow and constrained by the road, the National Railway line and the Todd River. There are a number of Aboriginal sacred sites, heritage sites, as well as power and water services that are also located in The Gap. It is important to consider all of these factors in the planning process to ensure we get the design right for the long term future of Alice Springs.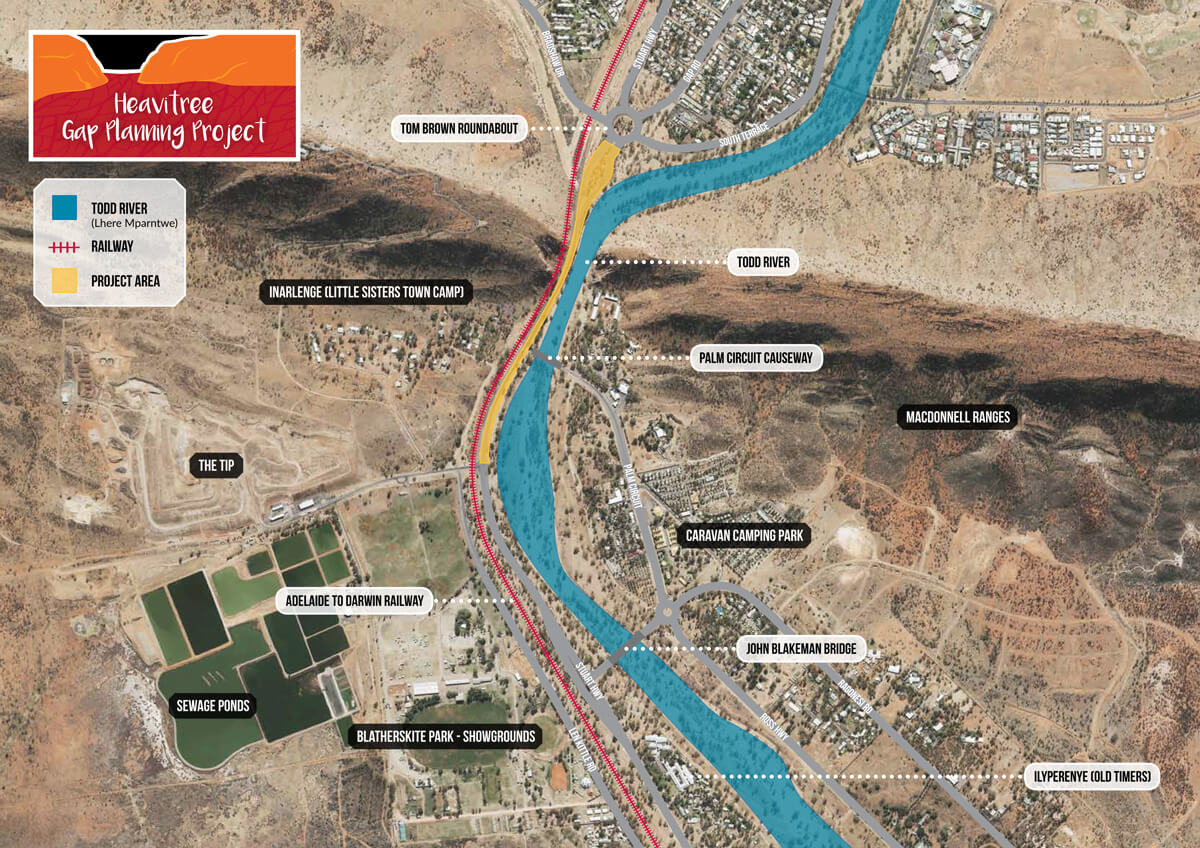 Community consultation
The MacDonnell Ranges and the Todd River are valued highly by the Alice Springs community, and are an icon for Australian tourism. We will engage with the community of Alice Springs to ensure everyone has an opportunity to have a say about the project.
Consultation will occur over three stages:
Stage 1, 30 January - 16 March 2018 - Information gathering stage
Stage 2, dates TBA - Community feedback invited on possible designs
Stage 3, dates TBA - preferred design announced for community information
How to have your say
To register your interest in finding out when consultation stage 2 is open, please email us at transport.planning@nt.gov.au or call us on 8924 7118 to speak with the Stakeholder Engagement Manager.
The project team will be meeting with key stakeholders as part of the planning for this project, including Alice Springs Town Council, Tangentyere Council, Alice Springs Flood Mitigation Committee and Town Camps.
More information
For more information download a copy of our fact sheet (5.5 mb) or frequently asked questions (5.5 mb).
Contact
Casey Lovelock
Stakeholder Engagement Manager
Transport Planning Division, Transport and Civil Services
Department of Infrastructure, Planning and Logistics
PO Box 61
Palmerston NT 0831
Phone: (08) 8924 7118
projects.tipd@nt.gov.au
---
Gunn Point Road Planning Study
Gunn Point Road
Gunn Point Road is the main access to a number of very popular recreational fishing destinations close to Darwin, Palmerston and surrounding suburbs including Leaders Creek, the Vernon Islands, Saltwater Arm and the lower Adelaide River.
The road provides access to the Leaders Creek Fishing Base, which is a popular and developing local tourism business offering accommodation, camping facilities, boat hire and supplies.
The road will also provide access to Project Sea Dragon, a $1.45 billion prawn aquaculture project that will generate significant economic and employment opportunities for locals.
The existing road is unsealed and in poor condition and prone to corrugations, dust and wet season closures due to flooding.
The current poor condition of the road is the limiting factor to any further growth in recreational fishing or tourism for the area.
Planning study
The Northern Territory Government has commissioned technical specialist Tonkin Consulting to lead a planning study to inform the concept development for Gunn Point Road and confirm the most appropriate alignment for Glyde Point connection.
The planning study will occur across two packages. The first package of the project is to develop a costed design concept for Gunn Point Road that includes realigning, upgrading and sealing the road to a two-way single carriageway from Howard Springs Road to Gunn Point.
The second package of the project will confirm the alignment of the Glyde Point connector road at the southern and northern end of Gunn Point Road. Community consultation for package two is likely to commence in 2018. To register your interest, please email us. Across both packages of work, the planning study will look at:
connections with the existing road network
future transport networks, including proposed rail and services corridor to Glyde Point, shared pathways and cycle paths
existing traffic conditions
access to abutting properties
estimated cost of upgrading the road
potential impacts on the environment, residents and the community.
The study will take into account potential future development in the area as outlined in the Darwin Regional Land Use Plan 2015 which earmarks future development in this area.
Proposed alignment
A design concept is being prepared based on feedback gathered during the first stage of the planning study and includes realigning, upgrading and sealing the road one lane in either direction.
Some of the features of the proposed design include:
realigning Gunn Point Road so that it sits within the proper road reserve and is approximately 4.8 kilometres shorter
sealing the road up to the intersection of Leaders Creek boat access road turn off
widening the sealed sections and upgrading intersections to maximise safety
dedicated right turn lanes that are suitable for large vehicles and trailers at major intersections to help improve safety
dedicated left turn lanes proposed for heavy vehicles turning left while heading towards Gunn Point
elevating higher than surrounding land to improve flood immunity during the wet season.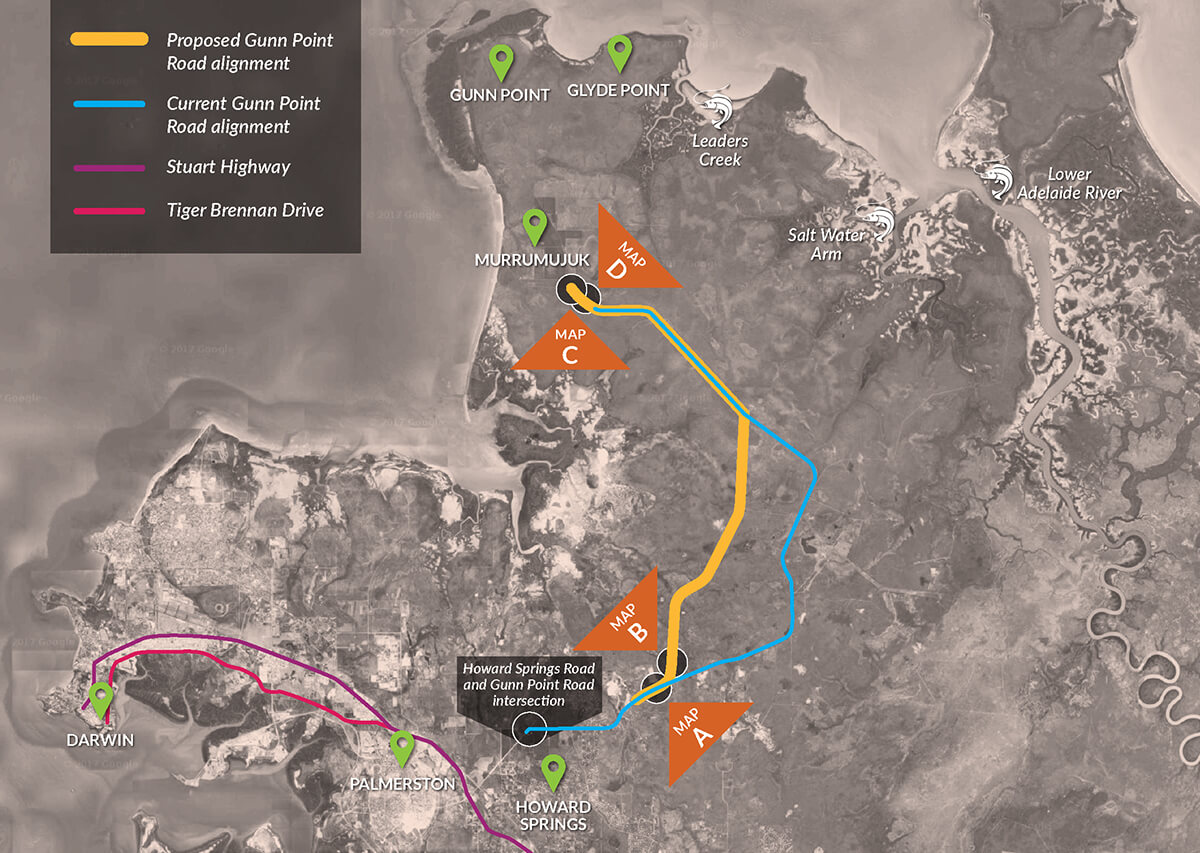 Download a copy of the Fact Sheet (1.7 mb)
Next steps
Community feedback gathered as part of the concept design, will be used to inform the detailed design and construction. The realignment and seal of Gunn Point Road is expected to commence in the 2018 dry season. Consultation on Package Two will commence in March/April 2018. Package Two will confirm the alignment of the Glyde Point connector road at the southern and northern end of Gunn Point Road. Register your interest below to stay informed on this project.
To find out more and provide feedback you can:
Send a submission to True North Strategic Communication at truenorth@truenorthcomm.com.au
Phone 08 8981 6445 to provide your feedback.
---
Access and safety improvements to the Stuart Highway at Pinelands and Holtze
The Northern Territory Government has released a concept design for improvements to the Stuart Highway to enhance safety and access to Pinelands and Holtze.
The Pinelands and Holtze precincts are busy industrial areas southeast of Darwin, where businesses are serviced daily by heavy vehicles and road trains. In 2016, the Department of Infrastructure, Planning and Logistics commenced planning to improve road safety and heavy vehicle access in these areas, to and from Stuart Highway.
Following public consultation undertaken in 2016 and 2017, a concept design has been prepared by local traffic engineering consultant, Tonkin Consulting. The design solution will accommodate future growth in the area maintain an appropriate level of service for local traffic increases and provide safe pedestrian crossing locations between the precincts.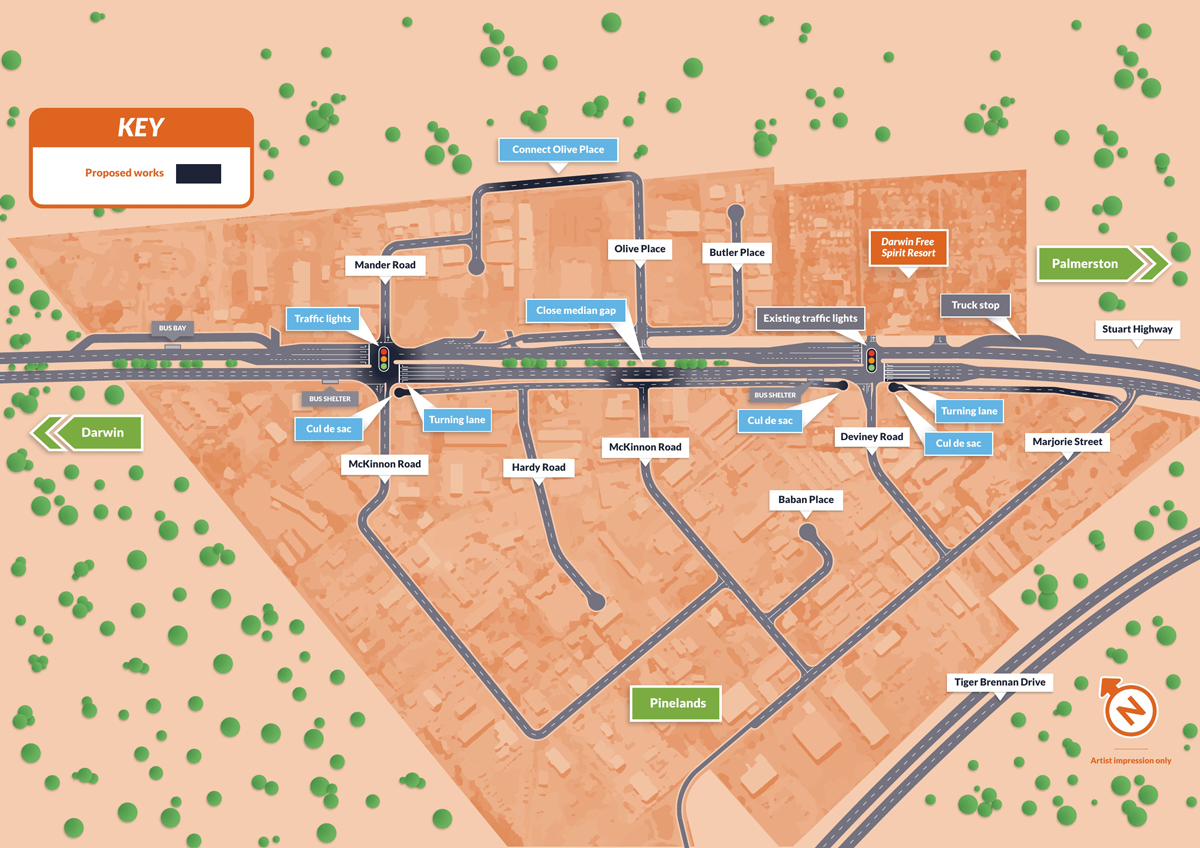 Key features of the proposed solution include:
the introduction of a new signalised intersection where the Stuart Highway intersects with Mander Road/McKinnon Road;
closing of the median gap on the Stuart Highway opposite to Olive Place and McKinnon Road (south);
a new local road to link Olive Place and Mander Road in Holtze
changes to (inbound) Stuart Highway service roads and
provision for turning lanes off the Stuart Highway into Pinelands industrial area which is frequented by road trains and heavy vehicles.
To provide feedback to the Project Team on the concept design, please contact True North Strategic Communication on feedback@truenorthcomm.com.au or 8981 6445.
Community consultation on this project has been extended until 2 November 2018. The project will then move to detailed design.
Download the proposed design factsheet (3.7 mb).
PINELANDS TRAFFIC MANAGEMENT Q&As
Q) Why is Government wanting to deliver these road changes?
Q) Can the design be changed?
Q) What are the current safety issues?
Q) Why haven't we been consulted previously?
Q) What have been the main issues raised during Stage 2 consultation to date.
Q) What will the Government do in relation to the issues raised by the community?
Q) Is the Youth Justice Centre the real motivation for traffic lights at McKinnon Road (North)?
---
Dundee Beach Carpark Study
The Department of Infrastructure, Planning and Logistics has engaged local engineering consultant WGA to undertake a review of Dundee Beach Carpark to identify a long-term plan to address parking demand.
Since the construction of the concrete self-launch boat ramp in 2016, use of the area by recreational fishers and tourists has increased, resulting in an increase in parking demand and carpark capacity issues at peak times. Overflow parking is temporarily accommodated within the Dundee Beach Holiday Park car park.
This review will consider:
parking-demand during peak and off-peak periods
future land use planning and development proposals
traffic management issues
pedestrian links
upgrades to access roads
provision of new infrastructure such as lighting; and
modifications to existing infrastructure where required.
Key stakeholders will be consulted as part of the review. Users of the area will also be invited to comment online and through intercept surveys when the project team is on site. To find out more about the project, contact Casey Lovelock, Stakeholder Engagement Manager on 8924 7118 or transport.planning@nt.gov.au.
This is a planning study only. The project is subject to further government and budgetary processes.
---
Stuart Highway Duplication
Latest news
About the project
Works to upgrade the Stuart Highway north of Alice Springs from the Motor Vehicle Registry to the Herbert Heritage Drive intersection are in progress.
This project is funded by the Australian Government under the Road Safety and Fatigue Management Initiatives. This upgrade will address safety issues, increase capacity, improve flood immunity and maintain an efficient transport corridor.
Construction is being undertaken between 6:30am and 6:00pm Monday to Sunday. Within these hours there will be restrictions to contractor activities during peak traffic times to ensure that the impacts to road users are minimised, however there will be some disruptions to traffic with lane closures and temporary speed restrictions. Please adhere to any traffic management in place.
The section of Stuart Highway between Herbert Heritage Drive and Woods Terrace will remain single carriageway at this stage. Planning is underway for future upgrades to this section of the highway.
Snapshot
Project commencement – December 2018
Estimated completion – Mid 2019
Map
Contact
True North Strategic Communication 1800 370 798 or email feedback@truenorthcomm.com.au
More information
Details of the upgrade
This upgrade includes construction of:
Two travel lanes either direction with a central median (2-lane dual carriageway)
Dedicated turning lanes at various intersections to improve separation between turning and straight moving traffic;
Upgrades to existing intersections (no traffic lights);
Off-road cycle and pedestrian path;
Upgrades to existing street lighting to improve safety;
Kerbing and guttering, and an underground storm water drainage system in a number of locations;
Construction of dedicated parking bays;
Landscaping using native arid plants;
Improved access to the information bay.
---